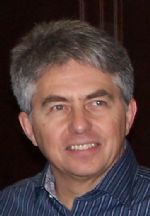 About the Presenter:


Steve A. Arshinoff received his MD at Baylor College of Medicine and ophthalmology residency the University of Toronto. He has been in private ophthalmic group practice in Toronto, Canada since 1980 and holds academic appointments at the University of Toronto, and McMaster University (Hamilton).

Dr. Arshinoff's areas of special interest are primarily cataract and refractive surgery, which make up about 70% of his practice, but wrote his first papers on the biochemical genetics of Gyrate Atrophy. He is the author of >260 peer-reviewed publications and chapters in 18 medical textbooks. Dr. Arshinoff has particular interest in simultaneous bilateral cataract surgery (SBCS), antibiotic prophylaxis for intraocular surgery, phaco machine design, ophthalmic viscosurgical devices (viscoelastics), and biochemical genetics, and has lectured worldwide on these topics.

Dr. Arshinoff was among the first in Canada to perform photorefractive keratectomy (PRK) and phototherapeutic keratectomy (PTK) (1991). He was the first in the world to propose and use non-steroidal anti-inflammatory drugs (NSAIDs) topically to alleviate the pain of PRK (July 1991).

Dr. Arshinoff is the designer of the Ontario Medical Association - Canadian National Institute for the Blind (OMA-CNIB) Mobile Medical Eye Care Unit (MECU), and is the medical director of the MECU program. He has spent 2-3 weeks per year in ophthalmic outreach programs to northern Ontario, Canada, with IVAN the Eye Van, for the past 30 years.

Dr. Arshinoff was the founding president of the Canadian Society for Cataract and Refractive Surgery, the founding president of the Eye Foundation of Canada, and a founding and current executive board member of the Toronto Ophthalmological Society. He is the founding president of the International Society of Bilateral Cataract Surgeons (iSBCS), and is an active member of many other ophthalmic academic societies, including the International Intraocular Implant Club, of which he is an executive board member and incoming future President for 2013.