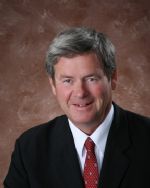 About the Presenter:


James A. Davison, M.D., F.A.C.S., received his medical degree from Mayo Medical School in 1976. He finished his ophthalmology internship at the University of Southern California Medical Center in 1977. He completed an ophthalmology residency at Mayo Graduate School of Medicine and finished as Chief Resident in Ophthalmology in 1980. Since then, Dr. Davison has been with the Wolfe Clinic, headquartered in Marshalltown, Iowa, USA, where he specializes in cataract and refractive surgery.

Wolfe Clinic was established in 1923, as of 2007, the Clinic is comprised of 7 locations, 11 Wolfe Family Vision Centers, and 21 outreach sites. The Clinic has a formal management structure and is staffed by 15 ophthalmic surgeons, 14 optometrists, and some 400 staff members. He has served as Chairman of the Board of Directors of Wolfe Eye Clinic and President of the Clinic Investments properties corporation since 1995.

Certified by the National Board of Medical Examiners and the American Board of Ophthalmology, Dr. Davison has written or produced over 80 scientific articles, book chapters, videotapes, and coedited a textbook on phacoemulsification and one on the surgical rehabilitation of vision.

Among his many professional accomplishments, Dr. Davison received the first prize for surgical innovation and excellence, the Surgicus Golden Hands Award from Dr. Charles Kelman at Surgicus III, New York City, New York, 1986. He also was a member of the editorial board for the Journal of the American Society of Cataract and Refractive Surgery in Fairfax, Virginia, from 1990 to 1995 and was the president of the Mayo Eye Alumni Association in 1996.

Lectures and papers have been presented throughout the world by Dr. Davison at meetings in Canada, France, Monte Carlo, Italy, Japan and Hong Kong. In 1990, he was invited by Dr. Phillipe Crozafon to perform live surgery in Nice, France and in 1995 by Dr. Lucio Buratto for his Videocataract meeting in Milan, Italy.