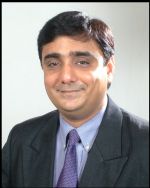 About the Presenter:


Dr. Kumar J. Doctor is a Medical Director of Doctor Eye institute established in 1964. He specializes in removal of spectacle power by Excimer laser with LASIK surgery and Cataract Removal by Phacoemulsification with foldable and Multifocal I.O.L Implantation.

He is a member of ASCRS, ESCRS, AIOS, and AIIS etc. Dr. Kumar is Ex-member of Scientific Committee - AIOS and held the post for six years from 1999 to 2005.

He regularly conducts and participates in Instruction Courses at ASCRS and ESCRS and presents free Papers/ Posters and Videos on Cataract and Lasik.

Dr. Kumar was an Editor of Vision Restoration Asia Pacific Journal and held the post of the Chief Editor of the Journal of BOA (Bombay Ophthalmologists' Association) for the years 2003 – 2006

Most recently Dr. Kumar Doctor was declared the FIRST Surgeon in the WORLD to successfully perform Presbyopic LASIK on Pseudophakic patients with brilliant results on AMARIS Laser, at 12th Schwind World Users Meet at Oman

Dr. Kumar Doctor has Received several awards in the field of Ophthalmology and has contributed a no. of chapters in many textbooks in Ophthalmology.

Dr. Kumar Doctor has designed an International LASIK Training Programme at our Smiling Eyes Laser Centre. This programme is intended to support the successful integration of Laser Techniques using Schwind Technologies into the clinical practice of LASIK Surgeons. We have successfully trained eminent surgeons from Egypt, Austria, Kuwait and Germany for LASIK.