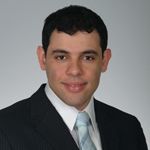 About the Presenter:


Dr. Mohamed A Guenena is a post doctoral fellow at Magill Research center for Vision Correction, Storm Eye Institute, Medical University of South Carolina.
He graduated from medical school with honors and completed his Ophthalmology residency at Cairo University, Egypt.
He is a member of the American Academy of Ophthalmology, American Society of Cataract and Refractive surgery, European Society of Cataract and Refractive Surgery and the Association for Research in Vision and Ophthalmology.