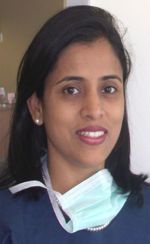 About the Presenter:


Soosan Jacob, MS, FRCS, DNB, MNAMS is a Senior Consultant Ophthalmologist and Head of Department in Dr. Agarwal's Eye Hospital, Chennai, Tamil Nadu, India. She is a gold medalist in Ophthalmology. She has won many international awards at prestigious international conferences in the United States. She is a noted speaker and has conducted courses and delivered lectures in numerous national and international conferences. She has special interest in cutting edge surgical techniques for cataract, cornea, glaucoma and refractive surgery, including deep lamellar endothelial keratoplasty, ocular surface reconstruction, new refractive solutions, and so on. She also practises oculoplasty and orbital surgery.
Dr. Jacob was the first to bring out the concept of Anterior segment transplantation. In this the cornea, sclera and an artifical iris, pupil and IOL are transplanted enbloc in patients with anterior staphyloma. She also devised a new technique for ptosis wherein the sling surgery can be done with primarily a one stab incision rather than three thus improving the post operative cosmetic appearance of the patient while still retaining excellent functional outcome. She has also devised two new techniques – the Turnaround technique and the Double Pass Turnaround technique for successful completion of Femtosecond laser assisted Intacs implantation in eyes with false channel dissection for both symmetric and asymmetric Intacs segments.
She has authored many articles and numerous chapters in 27 textbooks by international and national publishers and is also the editor for 5 textbooks in Ophthalmology. She is amongst the senior faculty for the DNB (Diplomate of National Board) postgraduate training programme and phacoemulsification and LASIK training programme for overseas doctors. She is an editorial board member of the Ocular Surgery News – Asia Pacific Edition.