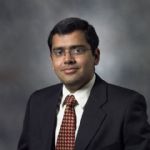 About the Presenter:


Dr. Arvind Venkataraman, graduated with a Bachelor degree in Medicine from Thanjavur Medical College, and then completed a four-years ophthalmology residency at the largest eye hospital in the world, the Aravind Eye Hospital in Madurai, India, obtaining his Master of Surgery in Ophthalmology. He has been the Gold medalist in Ophthalmology. He was the first post graduate to become the Member of Royal College in Ophthalmology, London during his post graduation.

After gaining experience in Ophthalmology in India, Dr. Arvind moved to England, where he expanded his learning and gained valuable hands-on experience as a Clinical Fellow at the James Paget Hospital in Great Yarmouth. He specialized in Glaucoma and Corneal eye diseases.
He has also passed the exams conducted by The Royal College of Ophthalmologists to obtain the Membership of the College. He was a lecturer at the Nottingham Medical School, Nottingham, UK. He also worked at the Derbyshire Royal Infirmary where he gained advanced experience in medical retina.
Following a desire to further expand his skills, Dr. Arvind moved to Canada and completed a fellowship in anterior segment reconstruction and refractive surgery. Dr Arvind has trained medical and ophthalmology trainees from university of Calgary, Alberta, Canada and University of Loma Linda, California.

For the last two years Dr Arvind is working as Chief Medical Officer, Vasan Eye Care Hospital at AnnaNagar in Chennai.