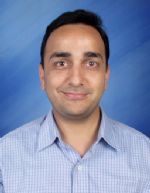 About the Presenter:


Dr. Umang Mathur is the Medical Director at the Dr. Shroff's Charity Eye Hospital (SCEH), New Delhi, India. SCEH is an institution that has been delivering eye care to the community for over ninety years.

Following his residency in Ophthalmology, Dr. Umang did his fellowship in Cornea and Anterior Segment from the LV Prasad Eye Institute, Hyderabad. Dr. Mathur has several publications in peer reviewed journals and participates actively in national and international conferences. He has been associated with SCEH for ten years and has been involved in developing and implementing quality and sustainable eye care systems at this institution. Besides his cataract, cornea and refractive surgery practice, he has interest in community ophthalmology and eye banking. Dr. Mathur is in-charge of the Fellowship training programme at SCEH and has trained over 100 long term and short term fellows in Anterior segment pathology and phacoemulsification.