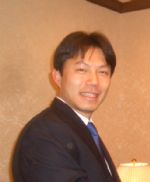 About the Presenter:


EDUCATION/TRAINING
Gunma University, School of Medicine M.D. 1994 Medicine
Gunma University, School of Medicine Ph.D. 2003 Clinical Pathology & Ocular Pathology 1994-96
Internship & Residency,Ophthalmology, Gunma University Hospital, Gunma, Japan.1996-98
Fellow, Ophthalmology,Saku General Hospital, Nagano, Japan.1998-99
Fellow, Ophthalmology, Gunma University Hospital, Gunma, Japan1999-2003
Graduate School Training, Pathology & Ophthalmology, University of Gunma, School of Medicine, Gunma, Japan2003-2004
Research Fellow, Ocular surface center, Miami, FL2004

Selected peer-reviewed publications (in chronological order).
1.Sawai J, Kishi S, Si Y. Restoration of dark macula after macular hole surgery. Rinshou Ganka 50: 809-813, 1996.
2.Sawai J, Hirato J, Nakazato Y, Kurachi H. Gliosarcoma with smooth muscle cell differentiation in sarcomatous element. The Kitakanto medical journal 49:441-446, 1999.
3.Nakazato Y, Hirato J, Sasaki A, Yokoo H, Arai H, Yamane Y, Sawai J. Differential labeling of the pinealocytes and pineal interstitial cells by a series of monoclonal antibodies to human pineal body. Neuropathology 22: 26-33, 2002.
4.Tsujii M, Goto M, Uehara F, Kaneko A, Sawai J, Yonezawa S, Ohba N. Photoreceptor cell differentiation in retinoblastoma demonstrated by a new immunohistochemical marker mucin-like glycoprotein associated with photoreceptor cells(MLGAPC). Histopathology 40: 180-186, 2002.
5.Sawai J, Nakazato Y, Yamane Y, Kimura N, Kishi S. Immunohistochemical Localization of Human Pineal Tissue Antigens in Normal Retina and Retinoblastomas. Neuropathology 23: 119-28, 2003.
6.Liu DT, Di Pascuale MA, Sawai J, Gao YY, Tseng SC. Tear film dynamics in floppy eyelid syndrome. Invest Ophthalmol Vis Sci. 2005 Apr;46(4):1188-94.