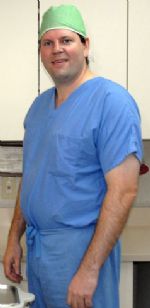 About the Presenter:


Steven D. Vold, M.D
BoozmanHof Eye Clinic
3737 West Walnut,
Rogers, AR, 72756

Dr. Vold is certified by the American Board of Ophthalmology, specializes in the diagnosis and management of glaucoma and cataracts. Dr. Vold provides the most advanced medical, laser, and surgical care available for treating glaucoma. He also specializes in small-incision cataract surgery. His special interests include: glaucoma and cataract surgery innovation, management of complex glaucoma and cataract cases, and secondary intraocular lens surgery.

Dr. Vold is a graduate of the University of Minnesota Medical School in Minneapolis. His internship at the Marshfield Clinic and St. Joseph's Hospital in Wisconsin was followed by an ophthalmology residency and a fellowship in glaucoma at Northwestern University Medical School in Chicago. He has been awarded numerous scholarships and academic awards.

Dr. Vold joined BoozmanHof in May 2007 after previously serving as Vice Chairman of the Department of Ophthalmology, Director of the Division of Glaucoma, and Assistant Professor in the Department of Ophthalmology and Surgery at the Scott and White Eye Institute and Texas A&M College of Medicine in Temple, Texas. At Scott and White, he was also Director of Ophthalmology Clinical Research and the primary instructor in glaucoma diagnosis and management for resident physicians and medical students. He has been listed in the Consumers' Research Council's Guide to America's Top Ophthalmologists every year since 2002. He currently serves as Chief Executive Officer for BoozmanHof.

Dr. Vold has published numerous medical journal articles and lectures internationally on various aspects of the diagnosis, and medical and surgical treatment of glaucoma and cataracts. He continues to actively participate in FDA clinical trials related to both glaucoma and cataract management. He is a member of the American Academy of Ophthalmology, American Society of Cataract and Refractive Surgery, Association for Research in Vision and Ophthalmology, American Glaucoma Society and Alpha Omega Alpha Honor Medical Society. He is married and has three young children.