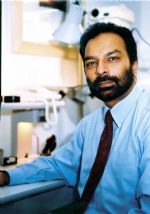 About the Presenter:


Mr. Milind Pande, MBBS, D.O, F.R.C.S, F.R.C.Ophth
Consultant Ophthalmic Surgeon & Medical Director

Milind heads the Vision Surgery & Research Centre in East Yorskshire. He trained initially in Yorkshire before taking up the prestigious Iris Fund Research Fellowship at St.Thomas Hospital in London. He was a Lecturer in Oxford before joining the Hull Royal Infirmary as a Consultant. He has over 28 years of clinical and surgical experience in three continents in the field of Ophthalmology with sub-speciality experience in cataract, cornea and all refractive surgery.

Eye surgeons around the world are influenced by his work here in Hull and East Yorkshire. Pioneering innovative work in the fields of Refractive Cataract Surgery, Lens Exchange Surgery, Laser Vision Surgery are well recognised. Whether it is organising the annual State of the Art Refractive and Cataract Surgery Symposium in Hull, running a surgical workshop in India or lecturing in China, Europe, Africa or America; teaching eye surgeons the latest techniques is a passion. His peers have honoured him with numerous invitations to demonstrate his surgical techniques via live satellite transmission at national and international conferences. Other honours include being invited to the International Intraocular Implant Club an international select group of pioneers in Vision Correction Surgery.

He is an elected council member of the United Kingdom and Ireland Society of Cataract and Refractive surgeons, is on the scientific as well as the laser eye surgery committee of the Royal College of Ophthalmologists.

A leader in his profession he is respected for his clinical experience, surgical skills and his dedication to sensitive patient focussed care. His reputation has attracted patients from all parts of the country as well as from Europe, Africa, Asia and the Carribean.