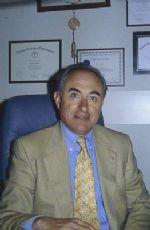 About the Presenter:


CURRICULUM VITAE

Professor GIUSEPPE RAVALICO



Born in Trieste on August 14, 1941.
Degree in Medicine and Surgery on November 30, 1966 with full marks and honors
Specialization in Ophthalmology (Rome, December 21. 1970) with full marks and honors
Voluntary assistant at the Ophthalmology Clinic of Rome University from December 1, 1966 to November 30, 1968
Since December 1, 1968 he was appointed Assistant at the Ophthalmology Clinic of Sassari University.
Since October 1, 1969 he was appointed Ordinary Assistant at the same Clinic.
Moved to Trieste following Prof. Bagolini, he was appointed Aid at the Ophthalmology Clinic of Trieste University since January 1, 1971, working under the guidance of Prof. Bagolini, Venturi, Brancato and Guerra.
Associated professor in Physiopathologic Optics from January 13, 1983 to October 31, 1987. Associated Professor in Ophthalmology from November 1, 1987 to October 1, 2000.
Since October 2, 2000 he is extraordinary professor in Ophthalmology at Trieste University.
He was responsible for the Ophthalmology Research Institute during the Academic Year 1982-83 and 1986-87 till today.
From the Academic Year 1991-92 he is Director of the School for Specialization in Ophthalmology.
From the Academic Year 1993-94 he is Coordinator of the Course for University Diploma for Orthoptists and Ophthalmology Assistants.
He has been teaching in the Official Course for students of the Faculty of Medicine and Surgery in 1971.
Since 1972 he is teaching at the School of Specialization in Ophthalmology, Neurology, Sport Medicine, Otolaryngology.
Since 1977 he is teaching at the School for Special Purposes for Orthoptists, Ophthalmology Assistants, became actually University Diploma Course.
He organized various national and international Conferences, mainly devoted to cataract surgery.
He has made training periods abroad, in particular Nantes – France at the Sourdille Clinic, Atlanta, Georgia- USA at the Emory University; New Orleans, Louisiana, USA at the Louisiana State University.
He has done reporting activity in various national and international Conferences.
In October 1996 he organized a meeting on Multifocal Intraocular Lenses in Stockholm, meeting upon invitation.
In 1990 he was responsible for the CNR project "Ageing".
He is a member of various scientific Italian and Foreign Societies, namely Società Oftalmologica Italiana, Associazione Italiana Chirurgia della Cataratta e Refrattiva, Société Française d'Ophtalmologie, American Society of Catataract and Refrative Surgery, International Intraocular Implant Club, American Academy of Ophthalmology.
He has produced 340 papers published in Italian and foreign reviews.
He is member of the editorial board and is peer referee in numerous national and international journals.
He has performed 414 intravitreal injections from January 2006 to December 2008.