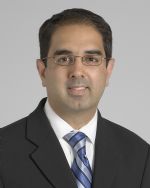 About the Presenter:


Rishi Singh, MD, is a Staff Physician in the Department of Ophthalmology at Cleveland Clinic's main campus. His specialty interests include medical and surgical retina including conditions such as diabetic retinopathy, age related macular degeneration, and retinal vein occlusions. Dr. Singh is also an Assistant Professor at the Lerner College of Medicine at Case Western University.

He earned his medical degree from Boston University School of Medicine in Boston, Mass. He completed his residency at the Massachusetts Eye and Ear Infirmary/Harvard University, in Boston, MA. He completed a vitreoretinal fellowship at the Cole Eye Institute of the Cleveland Clinic in Cleveland, Ohio.

Dr. Singh has published a number of articles in peer-reviewed journals and he is a member of the American Academy of Ophthalmology and the American Society of Retina Specialists. His is the principle investigator of six clinical trials and currently directs the Preclinical Compound Validation Program at Cole Eye Institute which evaluates new medical and surgical treatments and provides expertise in preclinical study design and human phase trial organization for FDA submission.